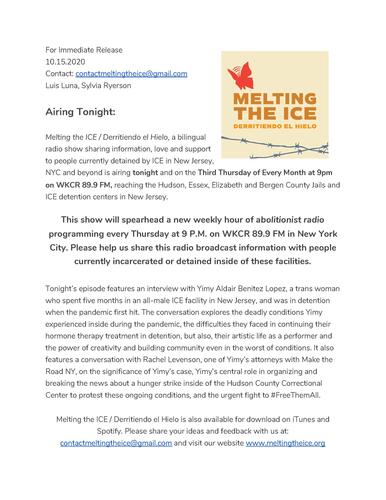 Melting the ICE / Derritiendo el Hielo, ​a bilingual 
radio show sharing information, love and support 
to people currently detained by ICE in New Jersey, 
NYC and beyond is airing ​tonight​ and on the ​Third Thursday of Every Month at 9pm  on WKCR 89.9 FM, ​reaching the Hudson, Essex, Elizabeth and Bergen County Jails and  ICE detention centers in New Jersey. 
This show will spearhead a new weekly hour of​ abolitionist radio 
programming every Thursday at 9 P.M. on WKCR 89.9 FM in New York 
City. Please help us share this radio broadcast information with people 
currently incarcerated or detained inside of these facilities. 
Tonight's episode features an interview with Yimy Aldair Benitez Lopez, a trans woman  who spent five months in an all-male ICE facility in New Jersey, and was in detention  when the pandemic first hit. The conversation explores the deadly conditions Yimy  experienced inside during the pandemic, the difficulties they faced in continuing their  hormone therapy treatment in detention, but also, their artistic life as a performer and  the power of creativity and building community even in the worst of conditions. It also  features a conversation with Rachel Levenson, one of Yimy's attorneys with Make the  Road NY, on the significance of Yimy's case, Yimy's central role in organizing and  breaking the news about a hunger strike inside of the Hudson County Correctional  Center to protest these ongoing conditions, and the urgent fight to #FreeThemAll.  
Melting the ICE / Derritiendo el Hielo is also available for download on iTunes and  Spotify. Please share your ideas and feedback with us at: