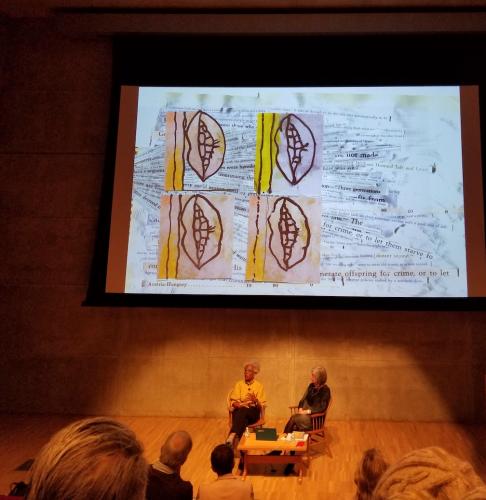 Historian-turned-artist Nell Painter sat down with Professor Laura Wexler to discuss her journey across seemingly incompatible worlds: history deals with words and creating coherent narratives, while art is a space of creative expression that encourages to take one's imagination beyond the bounds of the here-and-now.
Sitting in the intimately-lighted lecture hall located under floors teeming with art populating the Yale Center for British Art, Painter shared the story of how her book, The History of the White People (Histoire des Blancs) is being received in France. At a time when democratic politics is clashing intensely with a western history so intricately intertwined with a history of race and colonial politics, the reception of her book in France mirrored this contentiousness, she told the intrigued audience.
In Painter's recollection, her own turn to art was an act of separating herself from having to deal with history. To paint was to enjoy the pleasure for her own pleasure's sake. But after the elections of 2016, she found herself unable to not deal with the here-and-now and some of her paintings began reflecting the present moment.
Nevertheless, Painter hoped that works of black artists wouldn't be judged simply by its ability to talk about race and politics. While this is an important topic, she hoped that black artists are given the freedom to paint as they wish - and whatever they wish - without having to say something about their lived experiences. In other words, to allow black artists to pursue art as a form of pleasure for both themselves and the viewers. This subtle aspiration, however, conceals a most radical hope: to reach for a place in time and space where art no longer needs to bear the weight of the history of the experiences of black people and other minorities and finally achieve the freedom so promised a long time ago.
You can look at some of her work at www.nellpainter.com